Christmas Gift Ideas For Her :: Help Her Simplify Her Life
Christmas Gift Ideas For Her
These Christmas gift ideas for her will help you buy gifts for the women in your life who enjoy simplifying their life or who need help simplifying their life.
These Christmas gift ideas for her include ideas for the reader, the organizer, the minimalist, the mom, and the housewife.
All ideas are meant to help the women in your life make things more simple for themselves.
I hope you find something special for your loved one or even yourself. Have a very Merry Christmas. 🙂
Christmas Gift Ideas For Her – Books to Help Her Simplify
A Simplified Life: Tactical Tools for Intentional Living
Emily Ley's A Simplified Life, is amazing. Even after working on decluttering and simplifying for a few years, this book was very inspiring.
A Simplified Life would be great for anyone who feels like life is chaotic and wants to slow down a bit. Emily gives you all the tools you need, real-life examples, and pages for you to make your own goals.
Plus, the book itself is a beautiful book making it an even better gift.
The Life-Changing Magic Of Tidying UP
Marie Kondo's, The Life-Changing Magic Of Tidying Up, was revolutionary to homemaking.
Kondo was one of the first to speak out loud about decluttering and going more minimalist in your home. This book makes the perfect gift for someone who wants to tidy up their house for good.
Jesus Calling: Enjoying Peace In His Presence
Sarah Young does a beautiful job in her devotional, Jesus Calling.
Sarah uses scripture to remind us to slow down and enjoy peace in Jesus' presence. She reminds us that he is always with us and gives concrete ideas for focusing on His presence more often in your day to day life.
This book would be a great gift for any Christian women looking to slow down and remind herself daily that the Lord is with her.
Christmas Gift Ideas For Her – Products to Help Her Plan
The Simplified Planner
Not only is Emily Ley a great author and teacher of all things simplified, but she also makes amazing planners. Her Simplified Planners are "not just a planner."
They are specifically designed to help others plan well and simplify their life. She has a beautiful selection to choose from as well.
This would make a great gift for someone who already loves using a paper planner or for someone wanting to get better at managing their time.
Daily Planner To-Do Pad
These daily planner tear-off pages are cute and practical.
They let you plan each day at a glance and then start new the next day. They encourage you to get things done, get your meals planned for the day, get in your exercise and even encourage you to drink enough water.
This would be the perfect gift for anyone who loves planning and stationery. It would be a great addition to the Simplified Planner.
Perfect Planning Pens
These ultra-fine point sharpies are awesome for planner lovers. They make writing in your planner and making to-do list even more exciting.
If you know someone who loves planning or needs a burst of motivation to be a better planner, these sharpies will be great. (Teachers love these!)
Get them here.
Christmas Gift Ideas For Her – Stylishly Organized
Cute and Versatile Storage Cart
This adorable storage cart can be used in a variety of different ways and is perfect for anyone who likes to keep organized.
This cart can be used for anything from crafts to kitchen storage, to a nightstand. This is perfect for some who likes to organize in unconventional ways.
It's also great for craft lovers, teachers, and a person who likes practical gifts.
Earbud Holder
An earbud holder would make a great gift for anyone. It keeps your earbuds from getting all tangled up in your bag and makes it easy to find them.
These would be a great stocking stuffer.
Get them here.
Stylish Storage
The Hearth and Hand Line at Target is the perfect place to get stylish home storage. These galvanized metal storage bins are a perfect gift for someone looking to organize their house and keep things modern.
I always enjoy giving gifts in storage bins as well. You really can't go wrong with a cute storage bin.
Everyone will be able to find a use for it.
Grab it here.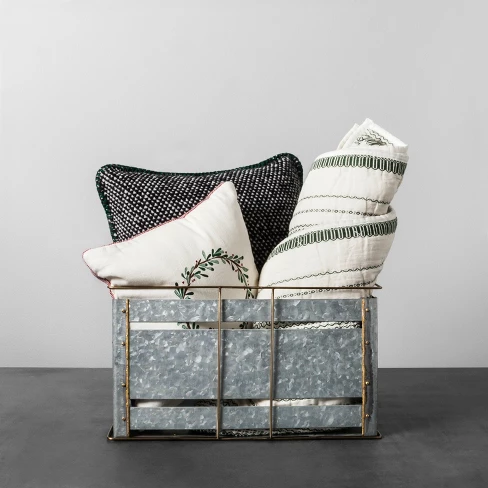 Christmas Gift Ideas For Her – The Practical/Minimalist
Robot Vacuum
A robot vacuum can make anyone's life more simple. It is a huge help around the house.
This gift works for the person who loves to keep things neat and tidy as well as the apathetic housekeeper. It's great for someone is lives more minimal because it is extremely practical.
There is not a single person out there who wouldn't use this.
Instant Pot
An Instant Pot is a pressure cooker that cooks in 70% of the time. The Instant Pot definitely simplifies life in the kitchen.
It is great as a gift for the practical person because it is useful and it takes the place on many kitchen appliances.
Replacing 7 appliances will leave so much room in a person's kitchen cabinets.
Photo Books
A photo book is a great way to hold onto memories. I like to use Shutterfly. Shutterfly makes it really easy to upload your own photos and design a custom photo book.
This is a gift that will be cherished for years to come.
If the person you are getting a gift for doesn't have any pictures to make a photo book with, consider gifting them a family photo sessions.
Use this link to get a FREE 8 x 8 photo book from Shutterfly.
Gift Cards/Experiences
While some people often feel like they don't want to result in getting "just a gift card" for a loved one. A gift card to somewhere they love to go could be perfect.
Maybe your loved one has a favorite place to eat, but they can't afford to go there. They would love getting to enjoy their favorite things and not having to pay for it themselves.
I hope these Christmas gift ideas for her will help you find the perfect gift to help her simplify her life. 🙂
Read More:
Thank You! Need More Support?
Thank you so much for stopping by. I hope you'll stick around and read some more.
Here are some more ideas for simplifying your home.
My main passion is helping women build systems and routines that make homemaking simple. I find this possible through simplifying life, decluttering, and building routines that work for your household.
If you love all of that or want to learn more you should jump on my email list. I'll send you a bunch of info on how I take care of my house, free access to my printables library, and a weekly newsletter with challenges and tips. Hope to see you there.
Either way, thanks again, and come back any time. 🙂

Pin this idea for later…